Xenology Quest [Exotic Cipher]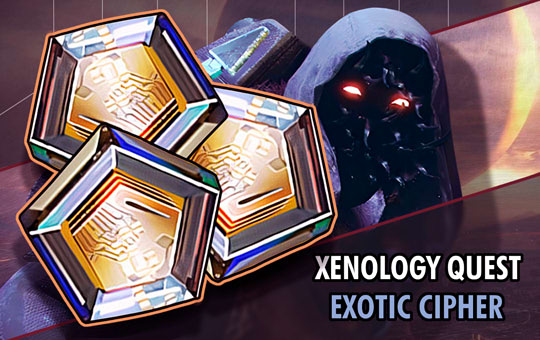 Xenology carry is a service that offers the completion of an exotic 2-step questline from the Xur vendor with the Exotic Cipher being the main reward. To finish the Xenology quest a player must complete 21 Crucible, Gambit, or Strike activities. The Exotic Cipher then can be used to get weapons from the Monument to Lost Light kiosk, Xur for random exotics that you don't have.
Xenology quest boost allows players to skip this lengthy grind and complete all 21 activities within several hours. Buying Xenology is prior for those who value their time and want to have every weapon in their collection.
Xenology Quest Boosting includes:
Xenology Quest completion.
Exotic Cipher obtained.
A lot of legendary gear along the way.
A lot of glimmer and other resources.
Experience to your season pass and artifact.
Boost takes: 3 hours.
Safety: 100% guaranteed VPN use in our recovery (piloted) services.
There is a minimal power level requirement for Xenology Quest carry service. Please check it below before the purchase.
You may select a number of activities for us to complete if there are already completed ones.
Requirements:
Witch Queen DLC;
1600+ Power Level;
this boost is a recovery (piloted).
How to get Xenology Quest?
Xenology quest can only be gained from Xur, agent of the nine vendor and it is a recurring quest. He spawns on various locations like the Tower Hundar, EDZ, or Nessus on Fridays every weekend starting on Friday (1 pm EST) and ending on Tuesday at the same time. You can take the quest and complete it at any given time once you have obtained it from Xur.
Keep in mind, that while you can complete the quest even if Xur is gone, you can only turn it to him. If for any reason you have turned in the quest the next Friday the game won't give you the chance to get the new quest on that Friday losing a whole week. That being said it is important to turn in the quest in the 4 days window.
What is an Exotic Cipher in D2?
An Exotic Cipher is an item that you can spend in order to get Exotic Weapons from a few sources. Note that Xur is the only source of the Cipher at the moment. Rarely seasonal rewards contain Exotic Ciphers to. Currently, there are 3 ways you can use the Exotic Cipher in the game which are:
Trade for weapons from the Monument to Lost Light kiosk in the tower.
Trade for a random Exotic Engram (random exotic weapon or armor that you don't have) from Xur.
Trade for Dead Man's Tale and Hawkmoon with great rolls or godrolls from Xur.
In case you still have any questions before getting our D2 Exotic Xenology quest carry service, you can always contact our managers via online chat, skype, or discord. We are online 24/7 and ready to help.