Wildseed Cradle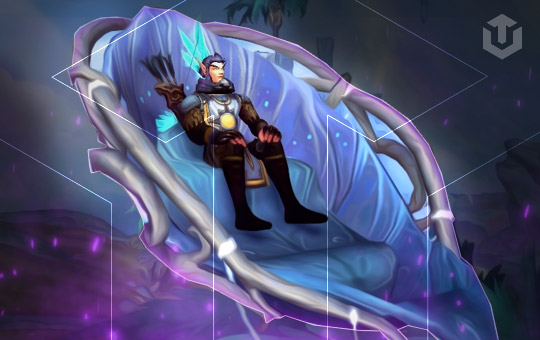 Wildseed Cradle is a unique treasure mount that can be obtained with a 100% drop chance from one of the hidden chests of Ardenweald. Buying the Wildseed Cradle carry will allow you to skip the lengthy treasure hunt and still open the Cache of the Moon to get the mount.
Boost ETA: ~1 day.
WoW Wildseed Cradle mount carry includes:
Some basic requirements have to be met before you can order the Wildseed Cradle mount boosting service from our store and ride this gliding magical leave through the zones of Shadowlands.
Requirements:
60 level character;
No specific gear requirement.
How to get Wildseed Cradle mount?
To get the Wildseed Cradle players will need to go through a series of tasks and locate the missing tools of the Twinklestar, located at Tirna Vaal in Ardenweald. After collecting all the necessary tools the Twinklestar's Gardening Toolkit can be crafted that will allow the opening of the treasure chest.
The Wildseed mount drops from Cache of the Moon with a 100% chance. This enchanted leave cradle can carry one person and looks awesome in the Shadowlands setting.
How to find and open the Cache of the Moon?
There is a hidden questline that players can get by speaking to the Twinklestar and running some attend for him. Here is the list of things you will need to do to obtain the Wildseed Cradle mount in the World of Warcraft Shadowlands expansion.
Visit the Garden of the Night and collect all 5 tools;
combine tools into Twinklestar's Gardening Toolkit
Return the Twinklestar's Gardening Toolkit to Twinklestar
Unlock the Cache of the Moon besides Twinklestar
Loot the Wildseed Cradle mount.
The coordinates of the tools and the description of their location are presented in the table below.
| | | |
| --- | --- | --- |
| Tool / Item | Coordinates | Description |
| | 40.30 52.65 | On the edge of the fountain, |
| | 39.76 54.46 | Inside the cart, |
| | 38.99 56.99 | At the top platform, on the table. |
| | 38.49 58.07 | On the ground, next to the tree. |
| | 38.86 60.05 | Under the cart. |
| | 63.90 37.53 | Combine all the tools and bring them to the Tirna Vaal. |
Why buy Wildseed Cradle mount from Boosthive?
Boosthive offers you the fastest Wildseed Cradle mount carry service performed by the professional boosting team. We have already gathered all the tools and unlocked the moon chest hundreds of times on beta to confirm the mount drop and availability.
If you don't want to waste your time on pointless run-around purchase the Wildseed Cradle boost today and enjoy riding your floating magical mount in Shadowlands.