Apex Legends Weapon Mastery Boost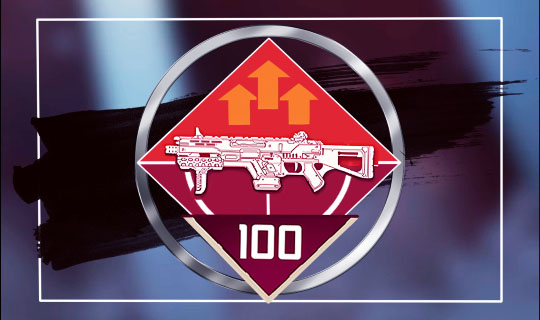 Apex Legends Weapon Mastery boost is a service that levels up the weapon experience to earn skill points depending on their mastery level for that particular weapon class. In simple terms, the more our Apex Weapon Mastery carries will place the skill points in a weapon tree of your choice the better your weapon will perform.
Buying the Weapon Mastery leveling allows you to boost your weapon skills without spending an insane amount of time on that. We care a lot about our customers' time, so we are ready to take care of all Weapon Mastery boosting tasks. Our experienced expert will take as much time as needed for Apex Legends gun boost. All you will have to do is log in and enjoy the results of our work and all the cosmetic bonuses that you will get as a result of the Weapon Mastery carry.
Start time: ~15-20 minutes / Boost takes 3h per level / 15 days per full weapon.
Apex Weapon Mastery carry includes:
Weapon Mastery level 100.
A good boost to your BP level.
Legendary skin.
Available Legends Wrath boosting options:
normal - On a first-come, first-served basis, we will try to fulfill your order as soon as possible;
fast - Your order will be fulfilled as quickly as possible.
Additional Wrath badge carries:
You can watch the boosting process on a stream we'll run for you
How long does the Apex Weapon Mastery boost take?
In season 17 of Apex Legends, we witnessed a Weapon Mastery - a system that allows you to not only improve your mastery of your beloved weapon but also receive nice bonuses for it. If you're up to upgrade your Weapon Mastery to level 100, you should know that it might be a long and thorny path. Not only will you need to exceptionally master your favorite weapon, but you will also need patience. According to our calculations, an experienced player will need up to 120 hours to level up just one weapon.
Can you imagine how much time such a player will need if he wants to boost several guns? And then there's more because every 20 levels will require the player to pass a weapon proficiency trial. Weapon Mastery takes a different amount of time depending on the weapon selected. We can promise you that we will fulfill your order as quickly as possible.
What do I need to get a boost
Transferring your account details to our expert;
How does purchasing a Weapon Mastery in Apex Legends work? Step-by-step guide.
You leave a request for the service, selecting the fulfillment options you need;
We contact you either via live chat or Discord;
We pick you an experienced performer for your task;
We will coordinate the time of fulfillment and immediately start the task when it is convenient for you;
We will notify you when the task is completed;
Enjoy your Weapon Mastery boost and don't forget to leave your review on Trustpilot.
Is Weapon Mastery boosting safe for my account and Legend?
When playing as your character, we follow all safety techniques and do not use cheats to boost them, so you can rest assured that everything will be fine.
Should any queries linger in your mind, we stand prepared to engage in a thorough elucidation of the task's intricacies at your convenience. Our proficient attendants await your message, prepared to assist you round the clock, 24/7.