Verdant Skitterfly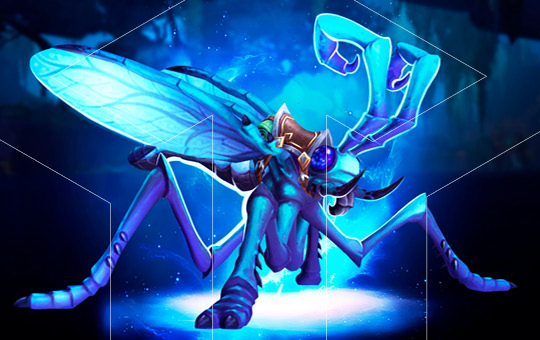 Verdant Skitterfly is a rare mount that drops from Expedition Scout's Pack with low chance. However, it is not available from the get-go and requires a significant time investment and luck. This mount only becomes available after the player reaches renown level 25 with this faction. Needless to say that this requires a lot of time and effort that some players might not be willing to invest, and buying Verdant Skitterfly is by far the easiest and fastest way to obtain this insectoid mount.
Verdant skitterfly's design is reminiscent of dragonfly insects, except way bigger and with spider-like legs. If you wish to add it to your collection, then our Verdant Skitterfly boosting service is exactly what you need. We will farm Expedition Scout's Packs treasures until the mount drops for you.
WoW Verdant Skitterfly boost rewards include:
Rare Verdant Skitterfly mount.
Multiple treasures looted on Dragon Isles.
Some Dragon Isles Supplies.
Other loot that might drop from treasures.
Boost takes: ~2-3 days.
The service completion speed mostly depends on luck as the drop rate of Verdant Skitterfly is around 1% or even less. In case you add renown farming service, it will take additional 4-5 weeks.
Before buying an Verdant Skitterfly mount, please make sure that you've reached Dragonscale Expedition renown 25 lvl and look at the basic requirements for this service.
Requirements:
level 70;
this service is piloted only;
Dragonscale Expedition renown 25.
How to Get Verdant Skitterfly?
While we offer Verdant Skitterfly mount for sale, some players might want to acquire this mount on their own. We have prepared an Verdant Skitterfly guide specifically for them. Here are the easy steps to acquire this mount:
Unlock Dragonscale Expedition via the main storyline.
Level renown rank with Dragonscale Expedition to 25.
Search Expedition Scout's Pack on Dragon Isles and open them.
With some luck and grind, the mount will eventually drops.
Farming all of these treasures, along with notorious flying can be quite tedious. If you prefer to enjoy other things in the game and don't want to waste your time on grinding, then our Verdant Skitterfly boosting services will be the perfect solution for you. Expand your mount collection quickly and without stress together with Boosthive!