The Twilight Zone Achievement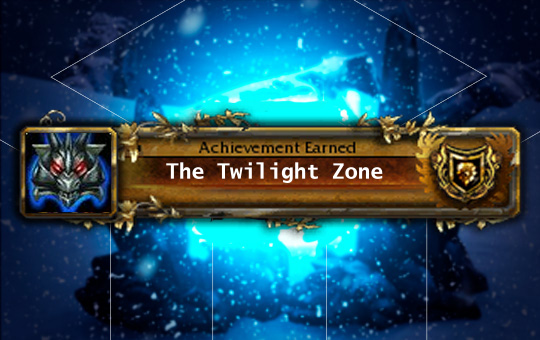 The Twilight Zone achievement boost will help players to get this achievement along with corresponding titles. This achievement is awarded to players for engaging Sartharion with all three drakes still alive. There are two variants of this achievement, for 10- and 25-man difficulties respectively. Fighting Sartharion with all drakes alive is way more difficult than killing him normally. 
Defeating Sartharion is already challenging, as it is, but adding drakes to the fight makes it that much more difficult. It is especially true for 25-man mode. Many groups won't even try to go for this achievement and kill the drakes outright. With our Twilight Zone achievement carry you won't have to look for the right group since we will do everything for you.
WotLK The Twilight Zone boost includes:
Sartharion+3 kill in 10/25 mode.
The Twilight Zone achievement (10/25 player).
The title "of the Nightfall" (10-man).
The title "Twilight Vanquisher" (25-man).
Reins of the Black Drake mount (additional option for 10-man mode).
Reins of the Twilight Drake mount (additional option for 25-man mode).
Boost takes: 1-4 weeks.
The Twilight Zone achievement for sale will become available in a few weeks after the Obsidian Sanctum release. This way our guilds will be able to gear up enough to guarantee the smoothest boosting experience without wipes.
This service is available on most, but not all WotLK Classic servers. Before buying The Twilight Zone achievement please contact our support via online chat, Skype, or Discord to check the service availability. Please take a look at the minimum requirements for this boost.
Requirements:
WotLK Classic account;
level 80;
this service is piloted only.
WoW Twilight Zone Achievement Carry
While keeping the drakes alive gives some extra good loot, not many raid groups will go for it. The reason is that it takes a lot of skill and preparation in order to pull this off properly. The attention of the group is constantly spread around 4 targets, which is much more challenging than just fighting Sartharion by himself. This makes buying The Twilight Zone achievement a good choice for people who don't have a well-coordinated guild that is willing to do it.
For many players, this level of stress just simply isn't fun. That's why we offer The Twilight Zone achievement for sale on most major realms. Our professional raiding teams with years of experience will handle everything for you. While pug groups can oftentimes be uncooperative and rash, our teams always know what to do and how to keep calm even in the most extreme raiding situations.
We offer The Twilight Zone achievement boost for both 10- and 25-man modes in piloted mode. This way we can ensure that the boost goes smoothly and will be done in the shortest time possible. However, if you wish to see the process yourself, it is also possible to request a stream as an additional option.
If you have any questions about buying The Twilight Zone boost or want to add something extra to your order, don't hesitate to contact us! Our customer support team is available 24/7 and can be reached via online chat, Discord, or Skype.