Tears of Contrition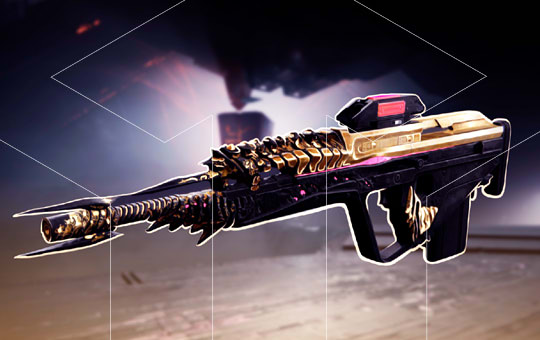 Tears of Contrition is a new Season of the Haunted exclusive legendary scout rifle. It is a random drop from the Nightmare Containment activity end chest on the Leviathan Derelict location and comes both with random rolls and Deepsight Resonance (red weapon) drops. Tears of Contrition carry will provide the desired amount of scout rifles for the perfect god-roll or we will farm enough red versions to extract the pattern and craft it into the weapon.
The legendary Tears of Contrition farm includes any amount of this rifle which is a must-have tool for PVE or PVP. It is a Kinetic Precision Frame weapon that has many great perk combinations despite only having six options in both the third and fourth columns while also being a Precision Frame scout rifle with an easy-to-control recoil pattern. Buying Tears of Contrition craft is prior to any guardian who values their time and wants to start the expansion with the best arsenal at hand.
Boost takes ~2h per roll (depends on luck).
D2 Tears of Contrition boosting rewards:
The desired amount of Legendary Tears of Contrition obtained.
A lot of legendary Opulent and SotH gear while farming for Tears of Contrition.
All resources that come along the way.
Experience for your Season Pass and Artifact.
The basic version of the rifle that we will farm is the normal one (not the red version). If you want the Tears of Contrition red versions of the weapon please click the following additional option. You may also pick the required amount of weapons in the additional options section.
To level up this weapon you need to complete 5 resonance quests and it drops randomly, so the completion time will be extended.
Requirements:
1800+ power level;
Beyond Light or Season of the Chosen available.
How To Get Tears of Contrition Scout Rifle
The rifle is a random drop from Nightmare Containment activity located on the Leviathan Derelict on the Moon's surface. To open such a chest a player must complete three tiers of the activity. On Tier III of this activity after defeating the final boss a chest will spawn which will provide SotH loot, including the Tears of Contrition. There is also an additional chest that can be opened via spending 500 Vestiges of Dread, which can also provide the Season of the Haunted arsenal, including the scout rifle.
Normally, we see Tears of Contrition in our pull every 6th try, but that's RNG so it may be faster or slower. Additionally, by upgrading your Crown of Sorrow on the H.E.L.M the farm for weapons and red versions gets a bit easier in time.
D2 Tears of Contrition Scout Rifle God Roll
Our team has stated the Tears of Contrition god roll and it looks like this:
Perpetual Motion/Explosive Payload

- This perk combination is extremely well-rounded for both PvE and PvP activities.

Triple Tap/Explosive Payload

- Fantastic option for both PvE and PvP, though Triple Tap is more useful inside of PvE activities.

Triple Tap/Fourth Time's The Charm

- Amazing PvE roll as both perks proc through the same kills.

No Distractions/Explosive Payload

- Arguably the best PvP roll since it reduces the user's flinch while flinching targets.

Triple Tap/Vorpal Weapon

- Solid option for activities where Unstoppable Champions are present.
The best part of the new DLC is that you may craft the weapon with the best perks available in its pool. In order to do that, you will need 5 Deepsight Resonance (red) versions of the gun and luckily you can enhance their drop via Crown of Sorrow in the H.E.L.M.