Taeshalach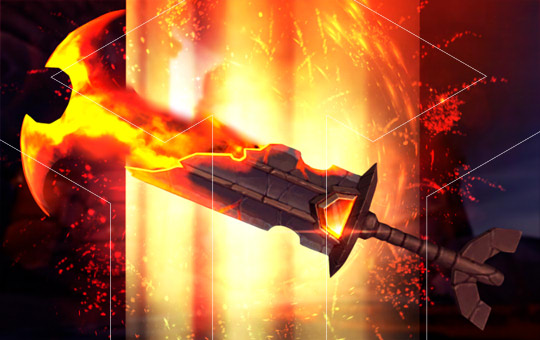 We offer players to buy Taeshalach transmog and forget about long and boring Antorus runs trying to get this cosmetic weapon. Taeshalach drops from Aggramar with a very low chance, so it might take hundreds of kills before this weapon will drop. With our Taeshalach farm service, players don't have to waste time on that as we do the grinding ourselves.
WoW Taeshalach boost includes:
Taeshalach transmog unlocked.
Multiple Aggmarar kills in various difficulties.
Some transmogs from Antorus that drop during the service.
Boost takes: ~3-6 months (on average).
The duration of Taeshlach boosting service varies, depending on our luck. We cannot predict when it drops due to low drop chances, but we will continue to do the runs until Taeshalach is obtained on one of your characters.
Our team will do our best to increase the chances of getting Taeshalach as soon as possible after the purchase. However, you need to understand, that sometimes it might take longer than the average time. But we will continue to do the runs on all your characters during Taeshalach carry service.
After you buy Taeshalach from us, we will be doing Antorus runs on all your characters that meet the following requirements.
Requirements:
70+ level;
paladin, death knight, warrior classes;
this service is piloted only.
Taeshalach Farming Guide
Taeshalach drops from Aggramar with 1% drop rate. It is push-personal loot that procs directly to your bags after you've defeated the boss. This is 2H weapon, so that means that this appearance can only drop for paladins, death knights, warriors and survival hunters.
This means that after the purchase, our team will be doing runs only on these classes trying to farm Taeshalach. Sometimes it might require over 200+ kills in various difficulties to obtain this transmogrification. However, it is worth it, as Taeshalach itself looks really cool.
Which makes it harder is the fact that Aggramar is not an easy fight at all. He has multiple stages, does a lot of damage and has various mechanics (f.e. knockback) that cannot be ignored. So only high-level characters can be used for this kind of boost. Otherwise they would simply not survive the encounter.
How to Buy Taeshalach?
The whole process of buying Taeshalach and the service itself is fairly simple and easy. Here is a quick step-by-step guide.
Proceed to checkout to finalize the payment.
Our managers will contact you within 5-7 minutes.
We will set everything up ready for the service.
Our team will do Aggramar runs every week on your toons to farm Taeshalach.
You still will be able to play when needed.
After the service is done and Taeshalach is in your bags, we will notify you.
In case you have any questions about the service, feel free to contact our manager in online-chat, Skype, or Discord. We are working 24/7 and happy to answer all your questions.