Spoils of Conquest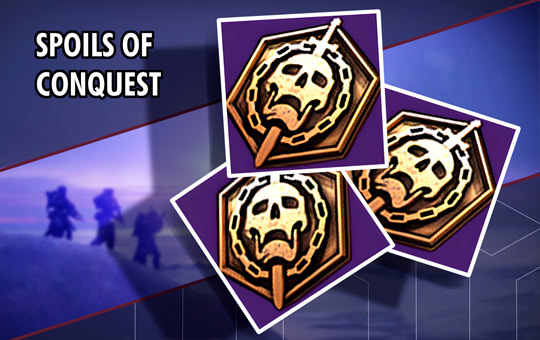 Spoils of Conquest carry is a grind of a currency type in D2 introduced in the Beyond Light expansion. What makes the tokens special is that they can be used to purchase Vow of the Disciple, Vault of Glass gear, and older raid Exotics from the Moment to Lost Light kiosk.
D2 Spoils of Conquest boost is a service of farming the currency until the chosen amount is received. It's not a chance, it's guaranteed completion. Buying Spoils of Conquest is prior to those looking to complete their collection and will need hundreds of these Spoils if they wish to obtain every raid Exotic.
Spoils of Conquest Boost includes:
Desired Amount Spoils of Conquest.
A lot of different raid legendary gear.
Possible raid exotic drops.
A lot of glimmer.
Experience to your season pass and artifact.
Boost takes: depends on the chosen amount of tokens.
Safety: 100% guaranteed VPN use in our recovery (piloted) services.
Our raid team will farm raids encounters for the desired amount of Spoils of Conquest.

Requirements:
D2 Beyond Light DLC;
D2 Witch Queen DLC;
this boost is a recovery (piloted).
How to farm Spoils of Conquest in D2?
There is only one way to farm Spoils of Conquest and it's quite straightforward through D2 Raids. You can get Spoils in D2 through the following:
Hidden Chests:

x2 Vow of the Disciple Chests Chests (10 per character).
x4 Vault of Glass Chests (20 per character).

Encounters:

Legacy raid encounters (3 per encounter).
Farming Vault of Glass encounters (5 per encounter).
Vault of Glass challenges (5 per challenge completion; currently unavailable).
By clearing a legacy raid encounter—Last Wish, Garden of Salvation, and Deep Stone Crypt raids—grants 3 Spoils per encounter for your first clear. Farming the same legacy raid in one week will grant no additional Spoils.
Buying Spoils of Conquest Grinding in Season of the Haunted
That's why we offer Spoils of Conquest for sale for all the players who get tired of doing endlessly repeatable raids every week. Our professional guardian boosters know the best and most optimal sources and methods to complete your order fast and easily while you enjoy your free time.
In case you still have any questions before getting our D2 Spoils of Conquest carry service, you can always contact our managers in online chat, skype, or discord. We are online 24/7 and ready to help.
See also