MW2 Season 6 Pack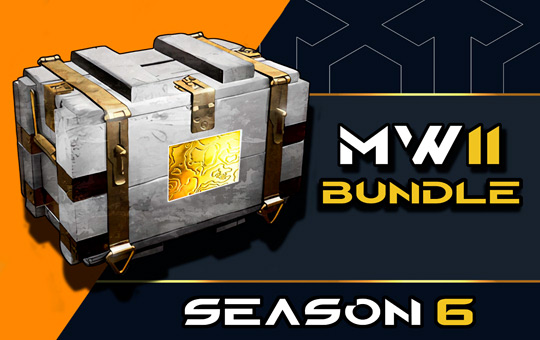 MW2 Season 6 bundle includes all three new weapons from Season 6, as well as an option to unlock all attachments for them. We will get all these guns, and if the additional option is selected we will unlock attachments for them as well. Buying the MW2 Season 6 bundle is a fast way to obtain 3 new weapons quickly and without any stress.
Start time: 30-40 minutes | Boost takes: ~2 days.
MW2 Season 6 bundle includes:
R-76 Geist AR unlocked
ISO 9mm SMG unlocked
Dual Kamas melee unlocked
Manual service completion.
We also offer additional options for this service in case you want to enhance your Season 6 experience.
Additional options:
unlock all attachments: We will level up all 3 new weapons to unlock every single attachment for them.
unlock gold camo: We will get a golden camouflage for three Season 6 guns for you.
Platinum & Polyatomic camo - pick this option and we will also unlock Platinum and Polyatomic camos for 3 weapons. You need to have Orion camo on your account for this option.
stream: If you want to watch the entire boosting process live, then this option is what you're looking for.
We offer our services on all platforms including PlayStation, Xbox, and PC.
Requirements:
Modern Warfare 2 purchased.
How it Works
This bundle offers the quickest way to obtain all Season 6 weapons in Modern Warfare 2. Follow these simple steps to ensure a smooth boosting experience:
Select additional options to enhance your order.
Proceed to checkout to complete the payment.
Fill in your order details after placing the order.
Our customer service team will get in touch with you within 3 to 7 minutes.
We will set up everything for the boost.
We will unlock all Season 6 weapons on your account.
Enjoy your new guns!
That's it! If you have any questions before purchasing our Season 6 bundle in Modern Warfare 2, don't hesitate to reach out to our customer service team via online chat or Discord. We're available 24/7 and always ready to answer your questions or create a customized offer for you. Make your MW2 experience more fresh and exciting with Boosthive today!