Lost Ark Pirate Coins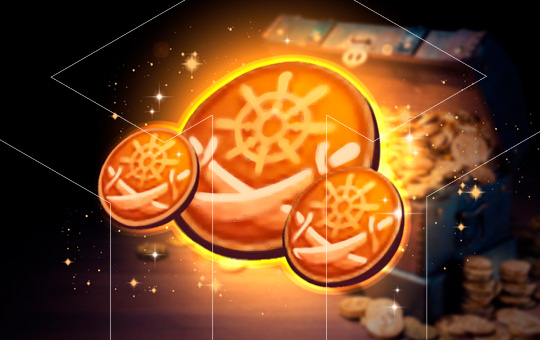 Pirate Coins for sale will help to get any amount of coins fast and easily in Lost Ark. These are one of the main currencies used for a huge variety of different items: crew members and ship upgrades, honing materials, Masteripieces and much more. Farming Pirate Coins might be boring and tedious and players need a whole bunch of them.
That's where our services come in handy. We offer to buy Pirate Coins in Lost Ark and forget about the long sea voyages across Arkesia seas and islands. Players don't even need to know how to get Pirate & Sea Coins efficiently, our team will do everything for you and farm enough Pirate Coins really quick.
Lost Ark Pirate Coins boost includes:
The chosen number of Pirate Coins.
Various Islands explored.
Other items like Gold, Silver that drop during the service.
Boost takes: depends on number of Coins.
Select the desired amount by picking various options and adding them in cart. It is possible to add other types of Coins to your order (Gienah's, Sceptrum's or Arctus). These ones are obtained from time-limited Marine events and can be easily traded in exchange for additional Pirate Coins.
Before buying Pirate Coins farming service from us, please have a look at the basic requirements.
Requirements:
50 level;
302 ilvl for Gienah's Coins;
460 ilvl for Sceptrum's Coins;
802 ilvl for Arctus Coins.
this service is piloted only.
How to Get Pirate Coins in Lost Ark?
Pirate Coins are one of many currencies used in Lost Ark. It is important to understand how to use and grind them fast and efficient, because you will need a lot of Pirate & Sea Coins to kick start the progression. We have prepared a quick Pirate Coins farming guide that covers all the ways you can get those elusive coins.
Certain Una's Daily Tasks (f.e. Ride Like the Wind, Crook Catcher, Pest Control).
Islands quests (completing main storylines).
Procyon's Eye Compass - Adventure Islands (available once per day).
High Seas Coin Chests (Other Sea Coins can be exchanged into Pirate Coins).
Welcome Challenges.
Also there is another and more effective way. Simply buy Pirate Coins from us in any amount and get them really fast while enjoying your free time. Now let's have a look what you can purchase with those.
Buying Pirate Coins Rewards
Having a stockpile of Pirate Coins is great, but now let's cover some ways to spend those. You can trade Pirate Coins with any merchant ship on the way (they are denoted by a blue label) for a vast majority of items and collectibles.
Here are some notable things to buy with Pirate Coins:
6th Giant's Heart;
Recruite Crew Memebers;
Masterpiece # 27;
Ship upgrades;
Engraving Recipes;
Song of Resonance;
Honing Materials and much more.
As you can see, there are a lot of goodies available for sale with Pirate Coins. These things are important as sailing across Arkesia seas is one of the main parts of end-game content. If you have any questions before getting our Pirate Coins boost, please do not hesitate to contact us via online chat, skype, or Discord. We work 24/7 and will be happy to help with any questions.