WotLK Heroic Dungeons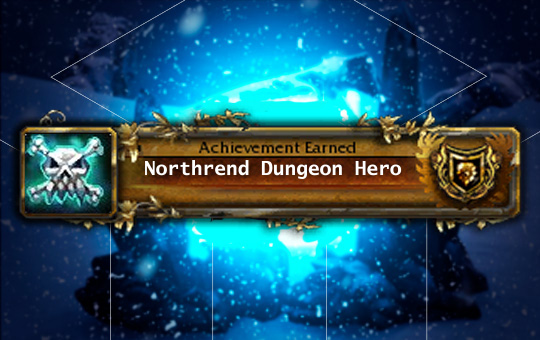 Northrend dungeon hero achievement boost will help players to clear all 12 WotLK dungeons on heroic mode. You can buy WotLK heroic dungeon boosts separately for each instance, or get this complete package that will help you to deal with all of them. Heroic dungeons can prove to be really challenging, and this is why our service aims to deliver the smoothest boosting experience possible.
Not only does it take a long time to run through all WoTLK heroic dungeons, but each one of them is challenging in its own right. In order to successfully pull this off, players are required to know the right strategy for dozens of bosses, have the skill to execute them, and have a well-coordinated team to do it with. Sometimes it might be more difficult to find the right team than to run dungeons themselves. Get Northrend Dungeon hero achievement with our Wrath heroic dungeon boosting, and forget about the stress of heroics.
WotLK Northrend Dungeon Hero carry rewards:
Meta-achievement Northrend Dungeon Hero.
All 12 Wrath heroic dungeons completed.
140 achievement points.
Some 200 ilvl gear from heroic dungeons.
Some reputation gains (equip the tabard before the start of the service).
Boost takes: 1-3 days.
We offer WotLK heroic dungeon carries, as well as Northrend Dungeon Hero achievement on most Classic Wrath servers. However, please make sure to contact our customer support before the purchase to specify the schedule for your particular realm. Also, make sure to take a look at the minimum requirements for WotLK heroic dungeon boosts.
Requirements:
WotLK classic account;
level 80;
this service is piloted only.
Northrend Dungeon Hero Boost Info
Northrend Dungeon Hero achievement is one of the hardest 5-man accomplishments there are in the game. Not only does it take a lot of time to clear all of the dungeons, but doing so on heroic difficulty requires extra preparation and having a coordinated team. Not everyone can easily find both time and team to clear heroics with, and this is exactly where our service comes in handy.
With our WotLK heroic dungeon boosts, you can be sure that runs will be fast and smooth, ensuring getting Northrend Dungeon Hero in the shortest time possible. Our teams have been running these dungeons since the original release of Wrath in 2008, and have both knowledge and skill to execute WotLK heroic dungeon loot runs perfectly. Buy Northrend Dungeon Hero boosting services and enjoy getting this achievement in no time at all.
If you still have any questions or want to add something extra to your heroic dungeon carries in WotLK, don't hesitate to contact us! Our customer support team is available 24/7 and is always ready to help. It doesn't matter if it's the middle of the night or even a holiday, you will always get a response! Our support teams can be reached via Skype, Discord, or online chat.