Lost Sector Exotic Guaranteed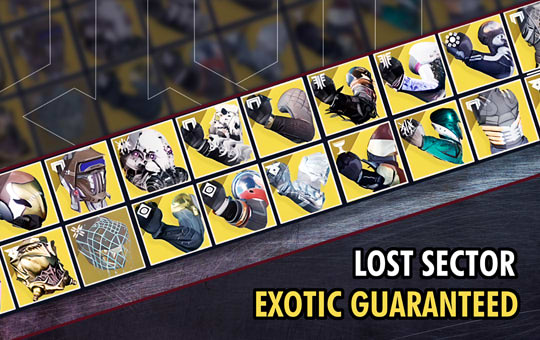 The new Lost Sector exotics have been added in the latest D2 DLC - Lightfall. Our professional LS boosters now offer any Lost Sector exotic for sale. 100% guaranteed loot in the shortest time possible. Lost Sector exotic carry that is farmed out only in the Legend/Master difficulty.
Brand new exotic armor that fits into hands and head slots is farmable only in the new Lost Sector activities. The drop chance of LS exotics is about 5% in the current rotation slot, therefore allow our carry team some time to get it for you.
The D2 Lost Sector exotic carry service includes:
x1 Exotic Piece of armor farmed and acquired from the list in the additional options section.
A lot of legendary gear.
A lot of resources.
A lot of glimmer.
Experience to your season pass and artifact.
Boost takes: 1-2 hours.
Please note that you can select one or any other number of exotics to be boosted from the current Lost Sector rotation. Every exotic has a 5% drop chance after each completion of the Legendary\Master lost sector.
Important to know that your D2 character has to be 1810 powerlevel for Legendary, and 1820+ powerlevel for Master Nightfall activity. Therefore before buying the D2 Lost Sector Exotic carry please check the requirements that need to be met for this type of carry service.
Requirements:
1810 for Legend\1820+ for Master powerlevel of character;
only desired exotics missing from the collection;
Any DLC that exotic requires;
Lost Sector Explored.
D2 Lost Sector Exotics Description
Purchasing the Lost Sector exotic farm from professional boosters is the fastest and the most reliable way to get them. Although new exotic armor slots have just around a 5% drop chance, we can 100% guarantee that you will get exactly what you want.
We will farm the Lost Sector rotations until you will get that piece of exotic equipment you desire. Don't forget that every day only 1 lost sector is available to be farmed and it has specific exotic armor pieces. However, you can still go ahead and order the one you want, and our LS farming team will take your order and complete it as soon as the required Lost Sector becomes available.
How to buy Lost Sector Exotic Farming
The process to get any Lost Sector exotic that we have for sale is pretty simple. As usual, you may select the item (or items) you need and place the order then the following steps will take place.
Proceed to checkout and complete your order.
Our manager will contact you almost instantly to arrange the details.
You will be explained Lost Sector Exotics boost and schedule a convenient time.
The LS exotic farming will take place in fast and smooth runs.
You will get your powerful Lost Sector exotic as soon as it drops.
This process can be repeated until you get both exotics added for your class or any amount of Lost Sector armor required.
Why choose Boosthive for Lost Sector exotic carry?
We are a professional team of gamers that know exactly how to get those Lost Sector exotics farmed fast. We guarantee you a 100% successful acquisition of any selected exotic piece of armor. Our experienced players will assist you in getting any item for your class, if you still have doubts just look at these facts about us:
100% Positive feedback on Reviews io based on over 1000+ reviews;
professional boosting team with over 15 years of gaming experience;
24/7 friendly customer support is available to answer any boost-related questions;
client-oriented approach targeting the specific needs of every customer;
we never use any cheats, aimbots, or glitches performing all the boosts manually.