Lost Ark PvP Ranked Boost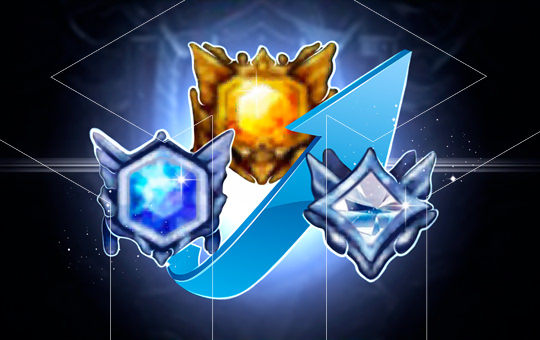 1000
1286
1572
1858
2144
2430
2716
Estimated time for boost
: 
19 hours
1000
1286
1572
1858
2144
2430
2716
Estimated time for boost
: 
19 hours
Lost Ark PvP ranked boost is a perfect solution for those players who wish to upgrade their rank and get into better division. Reach Platinum, Diamond or even higher ranks in competitive mode fast and easy and earn. Save your time and nerves and loot prestigious cosmetic rewards at the end of the season with the help of our PvP ranking service carried by professional Lost Ark players.
Proving Grounds brought a competitive ranked PvP into Lost Ark. However, players are not allowed to outgear their opponents as all characteristics are equalized in PvP. You can only queue solo for ranked matches, so personal skill comes into the first place. Losing MMR may be very frustraiting, but we have better and less stressful soltuiion - Lost Ark ranked carry.
Lost Ark ranked PvP boost includes:
Desired PvP rank obtained.
Seasonal rewards at the end of the season (depends on rank):

skins, titles, mounts etc.

Tier score points for PvP participation.
Coins of Courage.
Boost takes: 1-7 days (depends on chosen PvP ranks).
Before you buy our Lost Ark Ranked carry, please contact our support.
Please choose your current and desired Lost Ark pvp ranks with our flexible calculator. In case there are any questions about our Lost Ark ranked boosting, please contact us via online-chay, skype, or discord. We are online now and 24/7 and ready to help with any questions.
Important: You must reach proving grounds Tier 1 or higher in order to participate in competitive PvP matches. This is an additional option in case you don't have it unlocked.
Requirements:
26+ level;
Tier 1 rank unlocked;
this service is piloted.
Lost Ark PvP Ranking Boost Explained
Competitive seasons usually last around 6 months in Lost Ark. Players can enter ranked mode after having played several normal games. However, it is advised to practise a lot and learn about all classes and mechanics. It may be a bit long and tedious for majority of players and that's why boosting your rank in Lost Ark competitive mode might be a good option.
The main interesting feature that all competitive matches in ranked mode are equalised. That means that no player can bring items or gear that will give advantages over another players. Every character is granted a pre-determined set of stats and need to create PvP build in order to succeed. That's might be a bit confusing for new players turning a competitive mode into an unattainable dream.
Lost Ark ranked system works similar to other games. Competitive match average score determines the player's rank as well as rewards at the end of the season. Winning gives several points and loosing means that you start to drop these points. That creates a so-called swing system that sometimes forces players to stand on the same ranks for a long time. Not anymore, when you can buy Lost Ark pvp rank carry and get your MMR to much higher values fast and easy. Let's now look what divisions you can reach with our services.
Lost Ark PvP Ranks Rewards:
Players usually compete for a league titles. However, there are other prestigious rewards for ranked competitive mode: from Crystals to cosmetics. Many of those cosmetic sets are time-limited and can only be acquired from a particular season. This makes them unique - there won't be any way to earn such transmogs after the end of competitive season.
The league is divided into following ranks: Bronze, Silver, Gold, Platinum, Diamond, Master & Grandmaster. There are no rewards for Bronze participants, as this is a starting point. However, after a player reaches Silver or higher - he unlocks much better and more prestigious goodies.
Let's have a look at all PvP ranks & rewards that Lost Ark has to offer:
| | | |
| --- | --- | --- |
| Rank | Score | Reward |
| Bronze | 1000-1399 | - |
| Silver | 1400-1599 | Silver Rank Reward Chest |
| Gold | 1600-1799 | Gold Rank Reward Chest |
| Platinum | 1800-1999 | Platinum Rank Reward Chest |
| Diamond | 2000+ | Diamon Rank Reward Chest |
| Master | Top 31-100 region players | Master Rank Reward Chsst |
| Grandmaster | Top 30 region players | Grandmaster Rank Reward Chest |
In case you have any questions before buying our PvP ranked boost, feel free to contact us via online-chat, skype, or discord. Support team works 24/7 and we will be glad to help you with any difficulties or custom requests.