Legend's Wrath Badge Farm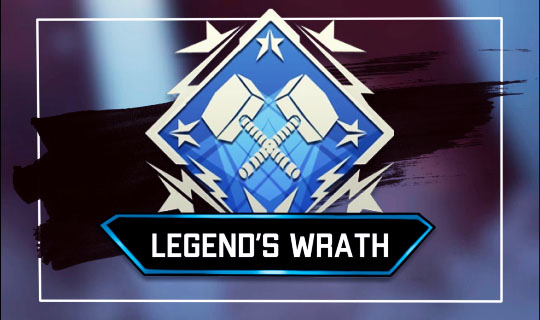 Ever wanted to stand out in Apex? Well, in that case, our Legend's Wrath Badge service is the perfect deal. we are happy to help. Did you know that even experienced Apex Legends players are having a tough time while trying to get it? As you know, the last tier of this badge indeed requires you to deal as much as 4000 damage in one game round. For reference, scoring a 1000 DMG per round is considered a good score among skilled Legend already.
Legend's Wrath is a good measure of skill, but you have to be proactive in gameplay means and think tactically for even a slight chance of acquiring it. In addition to this, getting this badge can also be due to the player's luck. We at Boosthive prefer not to hope for a chance, but to guarantee to help you achieve the heights. That's why we offer you help with getting Legend's Wrath and any other possible badges thanks to our experts. What's left for you is to enjoy the game and we'll take care of the hardest part!
Start time: ~15-20 minutes / Boost takes ~2-3 hours.
Legend's Wrath badge carry includes:
Legend's Wrath badge on your Legend.
A decent amount of EXP for your Battle Pass level.
Available Legends Wrath boosting options:
normal - Your order will be placed in the fulfillment queue and our expert will proceed as soon as available;
fast - We will start preparing your boost as soon as possible.
Additional Wrath badge carries:
For you, we can run a stream while we prepare your order.
How long?
Legend's Wrath of maximum tier usually takes 3-4 hours.
What do I need?
An unlocked Legend that you want to get a badge for;
Providing your account details to our expert.
How does purchasing the Legends Wrath badge work? Step-by-step guide.
You leave a request for the service, selecting the fulfillment options you need;
We contact you either via live chat or Discord;
We pick you an experienced performer for your task;
We will coordinate the time of fulfillment and immediately start the task when it is convenient for you;
We will notify you when the task is completed;
Enjoy your new badge and don't forget to leave your review on Trustpilot.
Is Apex Wrath boosting safe for my account and Legend?
When playing as your character, we follow all safety techniques and do not use cheats to boost them, so you can rest assured that everything will be fine.
If you find yourself with any lingering inquiries, feel free to reach out at your convenience. Our team is available around the clock, and eager to provide you with a comprehensive discussion on all aspects of the task.