Reins of the Green Proto-Drake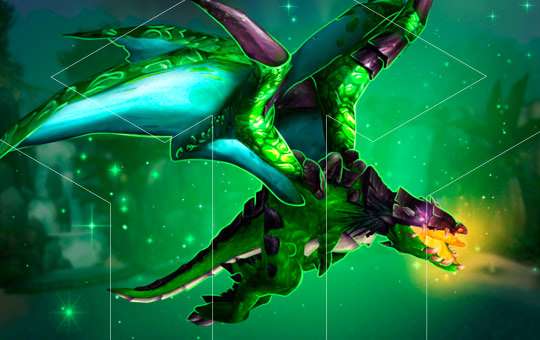 Reins of the Green Proto-Drake mount boost is the easiest way to get this green proto fast and without any random. This mount was added back in WotLK and dropped from the egg with a low drop chance. If you are tired of RNG, you can simply buy Reins of the Green Proto-Drake from us, and we will purchase it for you from Black Market without using your gold.
Green Proto-Drake has a 6% drop chance from Mysterious Egg. This Egg is bought from the Oracles in Sholazar Basin. After 3 days it cracks and may turn into a mount. However, you can hold only 1 egg at a time meaning that players might spend over several months before they get Reins of the Green Proto-Drake mount. Our service excludes any random as we buy Green Proto-Drake on the BMAH.
WoW Green Proto-Drake boost rewards:
Epic flying mount - Reins of the Green Proto-Drake.
We don't use your gold.
Bidding win rate 95% on Black Market.
Free 1-70 leveling to access Black Market.
Boost takes: 2-8 weeks.
Important: We offer Reins of the Green Proto-Drake for sale for all players who meet our basic requirements. Please check all info below.
Requirements:
second sub-account with new expansion (f.e WoW 2) on the same battle-net;
active game time;
NO need to have ANY gold on your account;
instant character 70 lvl boost purchased;
this service is piloted only.
BMAH Green Proto-Drake Mount For Sale
The way of getting your flying green proto from Black Market is quite simple and straightforward.
We will cover all steps in our short guide.
You need to create another account (f.e. WoW 2) within your battle-net account.
Any Dragonflight edition and game time purchased.
Order 3 Character Transfers bundle via in-game shop.
Our team will start hunting for the desired mount on 20+ different realms.
When an item pops up on any server, we will transfer there.
We will start bidding on the item and win it on the first try with a ~95% chance.
If we lose the bidding, we will repeat steps 4-6 steps.
This method allows you to loot Reins of the Green Proto-Drake with a 100% guarantee fast and easy and without months of waiting for cracked eggs. Our characters track BMAH on every realm, so we know when and where the item appears. Everything is completed on your separate account, so there are 0 risks of losing anything.
if you still have some questions before buying Green Proto-Drake mount, feel free to contact our 24/7 managers in the online chat. We are always online and the team is ready to help you with any questions or fulfill a custom request.