The First Satyr's Spaulders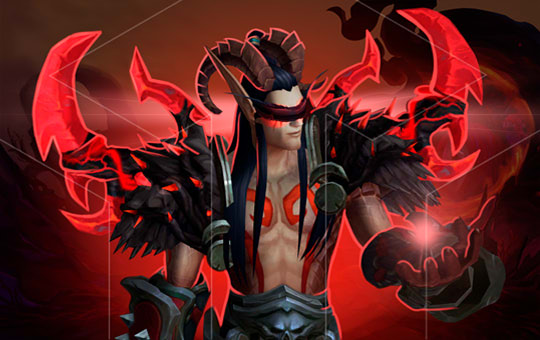 The First Satyr's Spaulders boost is the fastest way to farm this epic shoulders transmog for your character. You don't need to do Xavius runs every week or purchase this appearance on the Black Market for millions of gold. We offer you to buy The First Satyr's Spaulders from us, so we can track this item on a low-populated server and get it for you from BMAH without using your gold.
The First Satyr's Spaulders drop from Xavius in the Emerald Nightmare in heroic and mythic difficulty with a 0.3% chance. Players spend months doing weekly EN runs trying to get these awesome shoulders. That's why First Satyr's Spaulders price always goes above few millions on BMAH. Our service will help you get this rarest transmog appearance fast and without spending your own gold.
WoW First Satyr's Spaulders boost rewards:
Epic shoulders transmog - The First Satyr's Spaulders.
We don't use your gold to buy this item.
Black Market bidding win rate ~95%.
Free 1-70 leveling to access BMAH.
Boost takes: 2-6 weeks.
We offer The First Satyr's Spaulders for sale for all players on every realm. The delivery time depends on luck as our team needs the shoulders to appear on BMAH on a low-popular server. But there is nothing to worry about because we track all the realms.
Before buying First Satyr's Spaulders from us, please read the minimum requirements and our guide about this boosting service.
Requirements:
second sub-account with new expansion (f.e WoW 2) on the same battle-net;
NO need to have ANY gold on your account;
active game time;
3 character transfer bundle purchased;
this service is piloted only.
BMAH First Satyr's Spaulders Boosting Method
The process of farming The First Satyr's Spaulders from Black Market is quite simple and straightforward. However, you need to check our step-by-step guide about this carry
Please read carefully the full instruction on how this service works.
You need to create another account (f.e. WoW 2) within your battle-net account.
Any Dragonflight edition and game time purchased.
Order 3 Character Transfers bundle via in-game shop.
Our team will start hunting for the desired mount on 20+ different realms.
When an item pops up on any server, we will transfer there.
We will start bidding on the item and win it on the first try with a ~95% chance.
If we lose the bidding, we will repeat steps 4-6 steps.
This method is very easy and allows us to loot The First Satyr's Spaulders much faster than hoping for the random drop from Xavius. We use the addon that tracks all BMAH lots in your region, and our boosters know how to bid properly to win the lot. We use only safe and legal methods and everything is completed on your second account. You never risk wasting your time and money.
In case you still have any questions or a custom request before buying The First Satyr's Spaulders carry, please feel free to contact us in online chat, discord, or skype. Our managers will be happy to explain all the details.