Dual Kamas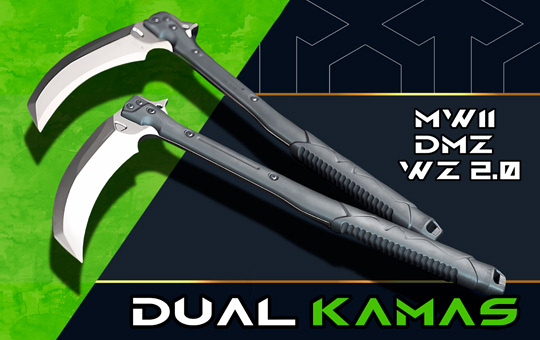 Dual Kamas boost is a fast and easy way to add this melee weapon to your collection in Modern Warfare II, Warzone 2, and DMZ. Dual Kamas excel in close quarters combat, getting close and personal with your opponent. Our Dual Kamas boost service guarantees a quick addition of this melee weapon to your arsenal, available across all game modes.
Accessing the Dual Kamas is a breeze through with our selfplay service, which includes a fully guided process designed to minimize wait times. Elevate your Call of Duty collection by using our Dual Kamas boost.
Start time: 30-40 minutes / Boost takes: 15-20 minutes.
CoD Dual Kamas unlocking includes:
Dual Kamas melee weapon unlocked.
Earn Military and Prestige rank experience as you progress.
Additional options:
Unlock all attachments: We'll level up the Dual Kamas to unlock all available modifications.
Unlock camo: Choose your desired skins for the Dual Kamas melee weapon.
Live Stream: Witness each step of your boost through a live-streamed experience.
Please note: The Dual Kamas unlock service offers a selfplay option, while additional choices are executed through piloted mode, potentially extending the boost duration. Ensure you meet the service requirements before purchasing the Dual Kamas:
Requirements:
DMZ access.
Ability to follow straightforward instructions from our team.
How to Unlock the Dual Kamas
Unlocking the Dual Kamas in Call of Duty is achievable through two primary methods. Once obtained, this melee weapon becomes instantly available in all game modes, including Modern Warfare II, Warzone 2.0, and DMZ.
Here are the two methods for Dual Kamas unlocking:
Complete the challenge in MW II.
Acquire the weapon from another player in the DMZ.
Our team favors the second method due to its speed and compatibility with the self-play option.
How it Works
Place an order and proceed to checkout.
Expect our contact within 3 to 7 minutes.
We'll prepare everything for the boost.
Simultaneously log into DMZ mode with our team.
Our teammate drops the Dual Kamas for you to acquire.
That's it! Enjoy your newly acquired melee weapon.
Unlocking the Dual Kamas with Boosthive is a simple process, typically taking less than 15 minutes and requiring minimal effort on your part.
CoD Dual Kamas Boosting Service
Our Dual Kamas boost is a great offer for players seeking a hassle-free path to obtain this melee weapon. Our team of highly skilled boosters ensures a fast and seamless order completion, delivering the weapon to you promptly.
If you have any questions about our Dual Kamas carry service, feel free to reach out directly! Our customer support team is available 24/7 via online chat or Discord. Elevate your Call of Duty experience with Boosthive today!