Dragonfight Club Achievement - Malicious Title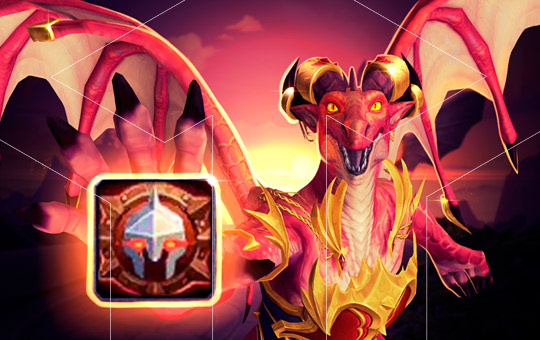 Dragonfight Club achievement boost is the fastest way to complete all Dragon Isles World PvP achievements and receive Malicious title. It is a new meta-achievement added in patch 10.0 of Dragonflight. Same old Tours of Duty in various zones and other stuff. Simply buy Malicious title to get everything done fast without the necessity to turn WM on.
Buying Dragonfight Club achievement will save tons of nerves and hours. We understand that it might be frustrated for some players to even turn wm on while questing. Especially when faction balance is not perfect and you simply might be ganked by opposite forces. Dragofight Club & Malicious title boosting solves this issue completely.
WoW Dragonfight Club achievement service rewards:
Dragonfight Club meta-achievement.
New PvP title - Malicious.
75 achievement points.
Some honor & kills.
PvP World quests completed on Dragon Isles.
Boost takes: ~80 days.
Please note, that there is A Champion's Tour: Dragon Isles achievement that requires to finish 4 world PVP quests 20 times. That takes an enormous amount of time to get it done because such quests only appear only once a day.
Before buying Dragonfight Club & Malicious title boost, please have a look at the basic requirements for this type of service.
Requirements:
70 level;
Dragonflight expansion;
this service is piloted only.
How to get Malicious title?
Completing Dragonfight Club achievement might be quite long and especially stressful process. First of all you need to turn on war mode that can quickly lead to a complete disaster. Moreover, you need to actively participate in this complete bloodshed.
Get 1000 honor in every zone of Dragon Isles by killing loads of players of opposing faction. However, there is a small shortcut here because you will also need to finish x20 world PVP quests in every zone as well. Such quests also reward some honor that should count toward the progress if nothing changes.
There are also few elites in the Dragon Isles that you must kill while also being in warmode. It is not a secret that opposing faction might decide to protect such NPCs and prevent you from doing so.
All these facts can either turn Dragonfight Club achievement into an interesting process or a complete disaster while being ganked by pvp-geared players on every step. However, there is an easier solution by simply choosing to use our Dragonfight Club achievement carry service and get it done without any extra effort or time.
Buying Dragonfight Club Achievement
The whole boosting experience is a customer-friendly process. After finalizing your order, our customer support manager will contact you within 5-7 minutes to set all necessary details and start the service. We also can work around your playing or raiding schedule so you still can play while the service. However, some world PVP quests appear every 6 hours and the team will need to check them very often trying not to miss a single day.
In case you have any questions about our Dragonflight achievement services, please do not hesitate to contact us in the online-chat, Skype, or Discord. Our team works 24/7 and always ready to provide any assistance and also fulfill custom orders on request.