Season of the Malignant Story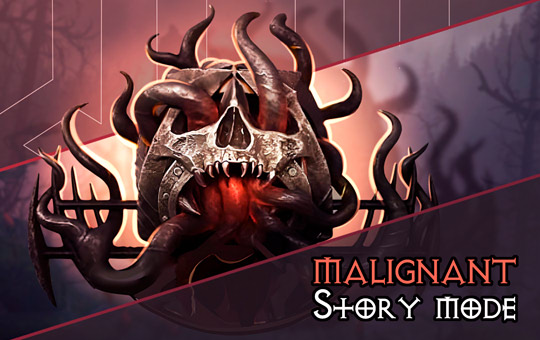 Diablo 4 Malignant campaign boost is a service that helps to skip the story in season 1 of Diablo IV without having to play through it yourself. There are many things to do in this new season, and the story is a small part of it that can get in the way of many players. If you don't want to go through this slog yourself, our Malignant story boost is exactly the service you are looking for.
Normally it takes hours to beat the storyline of the new D4 season. However, we offer a fast and easy solution to this. D4 seasonal campaign boost is performed by professional players, ensuring that it will be done in the shortest time possible.
Start time: 20-30 minutes / Boost takes: 10 hours.
D4 Malignant campaign boost includes:
Season of the Malignant story completed.
A bunch of gold and loot obtained during the boost.
Some XP points.
Some Battle Pass entries completed.
Manual service completion.
Add Season Journey - please pick this option in case you don't have Season Journey unlocked on your character. Otherwise the Malignant Story will be gated by Journey chapters.
Please keep in mind that you will need a seasonal character in order to get access to season 1 story mode. Before you buy a Season of the Malignant story skip, please make sure to take a quick look at the basic requirements for this service.
Requirements:
level 50+;
seasonal character;
main D4 campaign completed;
season journey completed.
We provide our seasonal story boosting on all platforms, which includes PC, PlayStation, and Xbox.
Season of the Malignant story FAQ
Before you buy a seasonal story boost in Diablo 4, you might be wondering about various things, and we have compiled this list of the most common questions in order to answer them. If you don't see an answer to a question that you have, you can always contact us directly via live chat!
Do you need a seasonal character for the Malignant storyline?
Unfortunately for players who don't want to create a new seasonal character to experience this story, the answer is "Yes". You will need a seasonal character in order to engage with the storyline in the season of Malignant in Diablo 4.
When does the Season 1 story take place?
The story of the season of the Malignant in Diablo 4 will take place after the main campaign. This means that players will also have to finish the main plot of the game in order to get access to it. However, if you have already done it on another character you can simply skip this process. If you haven't done that yet, we offer services to help you with that as well!
If you have any questions regarding the season of the malignant campaign boost in Diablo 4, don't hesitate to reach out! You can contact us via Discord, live chat here on the website, or even Skype. Our customer service professionals are available 24/7 and are always ready to answer any of your questions. Make your time with Diablo 4 much more fun and engaging together with Boosthive!