Colossal Soulshredder Mawrat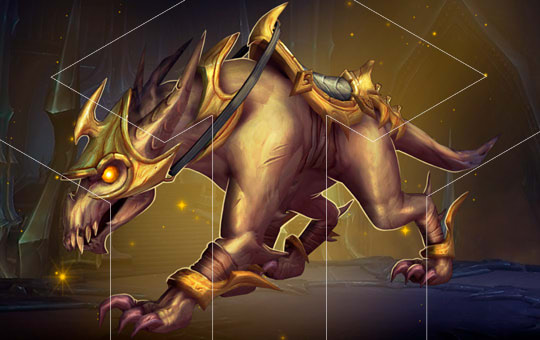 Colossal Soulshredder Mawrat mount that we offer for sale is the new epic ground mount that was added in Shadowlands patch 9.2 Eternity's End. Such a unique maw rat mount comes as a reward from the new Torghast Flawless Master (Layer 16) achievement. If you are tired of unsuccessful runs to get this mount, then our Colossal Soulshredder Mawrat boost is just for you.
WoW Colossal Soulshredder Mawrat mount carry rewards:
Epic ground mount - Sturdy Gilded Mawrat Harness.
New Flawless Master (Layer 16) meta-achievement with 80 points.
Achievements for flawless completion of each wing (L16):
Tons of Soul Cinders & Soul Ash to upgrade your legendary.
Tower Knowledge to upgrade your Torghast traits.
Boost takes: ~2-3 hrs.
Important: the rotation of Torghast wings was REMOVED, so you can now get the mount in one go. You can buy Colossal Soulshredder Mawrat full completion or choose the custom wings and we will finish them separately.
Before purchasing this service, please check the minimum requirements. Feel free to contact our 24/7 managers if you still have any questions or don't meet some of them.
Requirements:
60 level;
Torghast and Layer 16 unlocked.
Sturdy Gilded Mawrat Harness boost is available in both piloted and self-play modes.
Sturdy Gilded Mawrat Harness or Colossal Soulshredder Mawrat?
Players may get confused by the name of this mount. Let's shed some light and explain the difference. The Flawless Master Layer 16 achievement reward is called Colossal Soulshredder Mawrat. However, the item that learns the mount, is called Sturdy Gilded Mawrat Harness.
It is the same mount but for some unknown reason, developers decided to add 2 namings for it. We believe that players will still be using Colossal Soulshredder Mawrat because it is easier to remember and shorter to use.
Colossal Soulshredder Mawrat Boost
Game developers constantly adding various rewards into Torghast Tower and patch 9.2 is not an exception. Completing all 6 of the wings on Layer 16 with a 5-star score will reward players with the epic Colossal Soulshredder Mawrat mount and new achievement.
In order to purchase this service, simply press Buy now button and proceed to checkout to finish the order. After the payment is done, our managers will contact you to discuss all details and start working on our order.