Briarbinds Exotic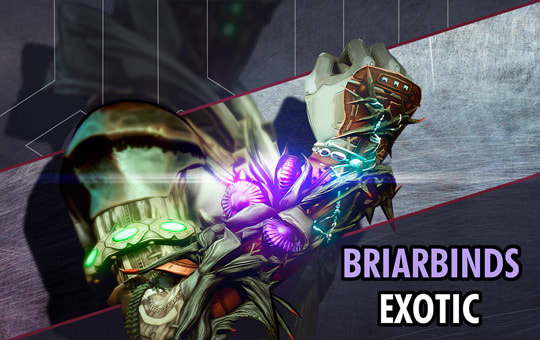 Briarbinds are the new exotic gauntlets for the Warlock presented in Season of the Witch. The Briarbinds exotic carry is single or multiple runs to a specific Lost sector until the gauntlets drop. Briarbinds exotic boost will provide you with a pro guardian player who will complete the required Lost Sector on Legend or Master difficulty.
Like every other D2 class exotics, Briarbinds provide specific buffs to some of the Warlock abilities, weapons, or both. Briarbinds enhance your Void Soul, making it stronger with each kill it does and now you can pick it up and continue to deploy the stronger version until it is killed. Buy Briarbinds warlock gauntlets and receive a powerful and beautiful exotic that will help you in any play mode in the game right from the start of the Season.
Start time: 15-30 minutes / Boost takes: ~1 hour per exotic.
D2 Briarbinds boosting rewards:
Exotic Briarbinds Warlock gauntlets.
Lost Sector completed.
A chance to get other exotics that are in the rotation.
A few enhancement cores and enchantment prisms after each run.
Other items and resources that will drop during Exotic farm.
Experience for your Season Pass and Artifact.
Note: The exotic is locked behind a rotating Lost Sector loop. If the day you purchase Briarbinds is not the rotator day, we will complete it as soon as that day comes (roughly once in 4 days).
The 1st available Briarbinds farm is on 8/26/2023.
Requirements:
1810 power level;
Lightfall DLC available.
this boost is a recovery (piloted).
How To Get Briarbinds
Every Season there is a new exotic armor piece for every class. Season 22 is not different in these terms and presents us with nice and shiny and most importantly strong choices when it comes to armor. Briarbinds could easily become meta in both PvP and PvE due to the fat Void Soul disintegrating everything on its way both giving you sustained healing via Devour and weakening opponents due to the nature of Void.
Briarbinds 100% guaranteed will be locked in one of the rotating Lost Sectors located in one of many D2 destinations. The drop chance is not 100% in any of the difficulties, around 25% in Legend and 33% in Master but we will continue Briarbinds farming until it's in your collection regardless.
Buying Briarbinds Farm
That's why we offer Briarbinds for sale for all the players who get tired of doing endless repeatable Lost Sectors every day. Our professional sherpa boosters know the best and most optimal sources and methods to complete your order fast and easily while you enjoy your free time.
In case you still have any questions before getting our D2 Briarbinds carries service, you can always contact our managers via online chat, Skype, or Discord. We are online 24/7 and ready to help.