PoE Atlas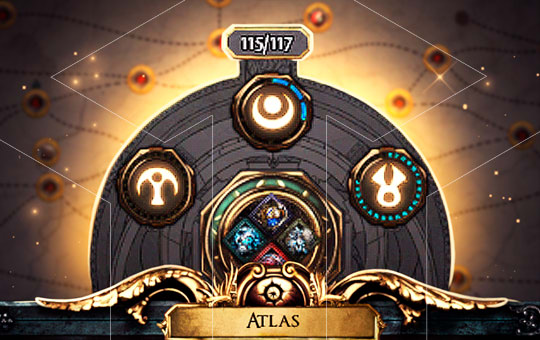 Estimated time for boost
: 
4 hours
Estimated time for boost
: 
4 hours
Atlas boost service will help to speed up the progression in the high-end content in Path of Exile. High-level maps drop more valuable loot, but the way to get there may be long and tedious. There should be no worries with our PoE Atlas completion. Reach Red maps fast and easily with the help of professional boosters.
Completing Path of Exile Atlas rewards:
Unlock all 8 regions.
Get access to all 117 maps.
Allows getting better gear and items.
T1-T16 difficulty unlock (additional option with 4 Voidstones).
All loot that is acquired during the boost.
Boost takes: up to 32 hours.
You can select any amount of maps with flexible calculator, it is recommended to select all 117 maps as it allows you to get access to the best regions with the most valuable loot. Customize your Atlas carry by picking additional options. In case you don't have 70 lvl character - please select this option while purchasing.
Before buying Atlas unlock service, please have a look at the minimal requirements.
Requirements:
this service is piloted only;
available on PC only;
70 level character in the chosen league.
Path of Exile Atlas Boosting Info
After finishing the main quests, all players get access to the Map Device. It is the main part of the high-end content. Progression through the Map and conquering Atlas allows players to get access to really difficult zones with better loot and the hardest bosses in the game.
Everybody starts with Tier 1 (T1) Maps which are quite easy. It escalates quickly and the final T16 maps may be very hard to finish especially for new players. These areas have the hardest bosses with top gear. Our PoE Atlas carry will help to start farming new areas and bosses faster thus speeding up the whole character progression in standard mode or league.
If you have any questions before getting our fast Path of Exile Atlast access service, feel free to contact us in online chat, skype, or discord. We are always online and ready to answer all the questions.