Ascendant Shards Farm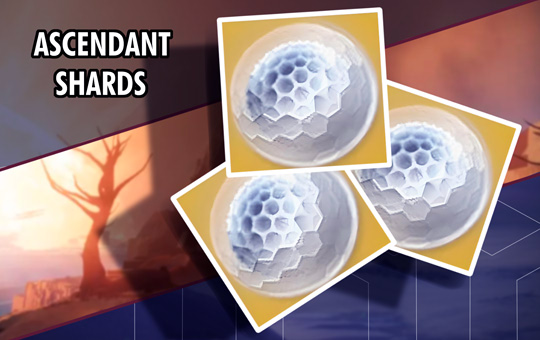 Ascendant Shards are the new resource that can be spent to maximize D2 armor's energy levels. Buying the Ascendant Shards farming service will get you as much material as you require (1-20) to fully max boost a piece of armor.
Our team will unlock, farm, and receive Ascendant materials from the Nightfall Strike.
Ascendant Shards carry service rewards.
Chosen amount of Ascendant Shards (1-20).
Chance to get Enhancement Prisms.
Chance to get Exotic armor.
Experience for your Season Pass and Artifact.
Boost ETA: 1-5 days.
Important: You can only hold x10 Ascendant Shards at once in your inventory and 10 extra Shards in each Guardian Postmaster.
We will organize Ascendant Shards farm by completing The Nightfall Strike only.
Requirements:
Ascendant Shards Currency Boost
Ascendant Shards can boost your armor to the maximum energy capacity however it is a pretty rare and hard-to-get material. There are only 3 ways on how you can get Ascendant Shards in D2. Here they are:
AS can be purchased from Banshee-44, the Gunsmith;
AS can be unlocked by ranking up the Season Pass;
Ascendant Shards are rewarded for completing Nightfall: The Ordeal Master difficulty.
It is the last source of shards that our boosting team will be farming so that you can get as many shards as possible per week. If you wish to get more resources or know more about the Ascendant Shards farming, please reach out to our 24/7 available support manager via online chat.