Ascendant Alloy Farm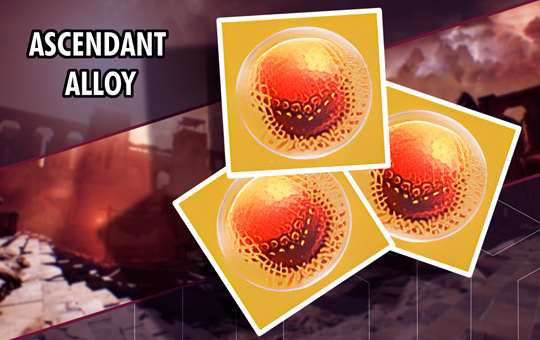 Ascendant Alloy farming service will help you get the exact amount fast and easily in D2 Season of the Reason. This is a new currency that drops in the Weekly Campaign mission and upgraded Wellspring activity. Ascendant Alloy allows you to reshape your forged weapons and upgrade them to higher tiers of power making it the most important in the weapon shaping process.
Here you can buy Ascendant Alloy in any amount and forget about the repeatable daily grind of both activities. Focus on more interesting in-game activities but stay on the competitive edge with our fast and simple Ascendant Alloy boost.
D2 Ascendant Alloy carry rewards:
Any amount of Ascendant Alloy farmed.
Weekly campaign missions or Wellspring activities completed.
Experience for your Season Pass and Artifact.
All items and resources that will drop during the farm.
Boost takes: 1-2h for each alloy.
Safety: 100% guaranteed VPN use in our recovery (piloted) services.
You can select any amount by moving the slider and you may choose the exact way you want Ascendant Alloy to be farmed - Wellspring or Campaign mission.
Important: the boost is only manageable if you have at least one of the ways unlocked for the Alloy farm. If you don't have them please click Weekly Campaign mission unlock or Wellspring activity upgrade unlock. They are unlocked after reaching Rank 13 and 18 with the new Fynch reputation on the Witch Queen Throne World.
Requirements:
Witch Queen DLC;
Weekly Campaign Mission unlocked;
Wellspring activity upgrade unlocked;
1520 powerlevel.
this boost is a recovery(piloted).
Best Ascendant Alloy Farming Method
There is no real cheese method to farm the Ascendant Alloy, the only available ones are the Weekly campaign mission and the Wellspring upgraded mission. Both are obtained after reaching Rank 13 and 18 from Fynch, the friendly hive-ghost. After the completion of any of these activities, there is a small chance of getting 1 alloy. The grind is repetitive and you can purchase as many as you like.
You will also receive a handful of these while processing the campaign. Also, you can purchase 1 Ascendant Alloy a week for 400 legendary shards from Master Rahool in the Tower. There is one more after reaching a Rank 16 with Banshee-44.
Buying Ascendant Alloy Grinding in Season of the Risen
That's why we offer Ascendant Alloy for sale for all the players who get tired of doing endless repeatable activities every day. Our professional guardian boosters know the best and most optimal sources and methods to complete your order fast and easily while you enjoy your free time.
In case you still have any questions before getting our Ascendant Alloy carry service, you can always contact our managers via online chat, skype, or discord. We are online 24/7 and ready to help.