Armored Razzashi Raptor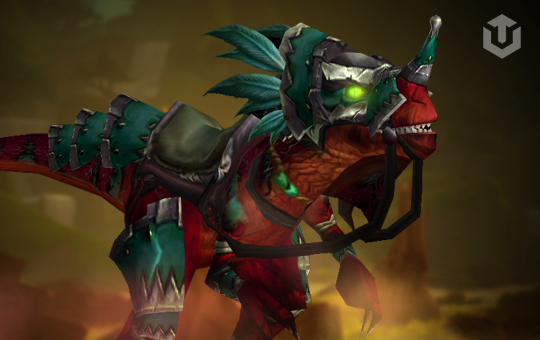 Armored Razzashi Raptor is one of the seven raptor mounts available for both factions. It drops from Bloodlord Mandokir in the updated Zul'Gurub version with a 1% chance. This mount replaced its classic green version of the Swift Razzashi Raptor back in Cataclysm. The green one became obtainable only through BMAH.
Armored Razzashi Raptor carry rewards:
Red ground dinosaur – Armored Razzashi Raptor farm options:

Armored Razzashi Raptor guaranteed drop;
guaranteed buyout from BMAH without using your gold.

Some transmog items from Zul'Gurub
Gold and other items dropped during the boost.
Swift Zulian Panther mount - please pick the additional option.
95% bidding winrate on Bmah.
Free 1-70 leveling to access Black Market (only for BMAH method).
Boost ETA: 1-6 weeks depending on the luck.
Updated Zul'Gurub has a 1-day lockout, so the mount can be easily farmed by our team. We will kill Mandokir boss every day across all your characters until the desired item drops. After that, you will have the pleasure to learn the mount yourself.
Please take a look at the minimum requirements before purchasing this service. If you don't meet any of these, feel free to contact us in live support chat, and we will gladly help you.
Requirements:
retail WoW account;
game paid time;
45 level .
Requirements (BMAH buyout):
second sub-account with Dragonflight (f.e WoW 2) on the same battle-net;
NO need to have ANY gold on your account;
instant character 70 lvl boost purchased;
this service is piloted only.
BMAH Armored Razzashi Raptor For Sale
The way we will get your Onyxia mount from Black Market is quite easy.
How it works:
You need to create another account (f.e. WoW 2) within your battle-net account.
Any Dragonflight edition and game time purchased.
Order 3 Character Transfers bundle via in-game shop.
Our team will start hunting for the desired mount on 20+ different realms.
When an item pops up on any server, we will transfer there.
We will start bidding on the item and win it on the first try with a ~95% chance.
If we lose the bidding, we will repeat steps 4-6 steps.
Using this method we will loot Armored Razzashi Raptor mount much faster than relying only on a random 1% drop from the boss. We have characters on all low-popular realms so we know where and when the mount appears. We do everything on your separate account, so there are no risks of losing anything.
In case you still have questions before buying Armored Razzashi Raptor, feel free to contact us in an online chat. We work 24/7 and our managers are ready to answer all your questions.