Apex Predator Rank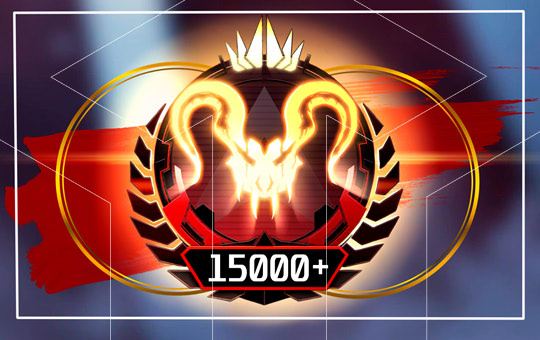 Getting Apex Predator rank is not a joke in Apex Legends. Only 750 top players are eligible to get this prestigious title at the end of the season. That means that you need over 20000 RP points in order to reach this threshold. Our Apex Predator boost will help to achieve Predator rating with the guaranteed result.
Avoid wasting hundreds of hours on the ladder with our Apex Predator carry at a fair price. Boosthive's fire squad will farm enough RP for you to get into the list of current apex predators at the end of the season. After buying Apex Predator boosting service, the team will monitor the ladder and get as many points as needed.
Apex Legends predator boost rewards:
Reach Apex Predator rank at the end of the season.
Over 15'000 RP farmed in ranked leagues.
Apex Predator Badge.
Holospray.
Weapon Cosmetic.
Season-Long Dive Trail
Boost takes: ~1-2 weeks.
The duration of Apex Legends Predator carry varies depending on the starting rank. If you are not Master rank, the team will need additional 5-9 days to reach 15k RP and then start progressing toward Apex Predator rank.
Requirements:
Apex Legends account;
Master rank (pick additional option if not);
following our guidelines if you choose selfplay option.
Apex Predator Boost Guide
Players might wonder how to get Apex Predator rank. There is a special ladder for all players in Battle Royale. All you need to do is to get into the top 750 players on this leaderboard until the end of the season. Apex Predator ranking list is unique for each gaming platform: PC, XBOX, or PlayStation.
This is what exactly our Apex Predator carry service will help to achieve!. Our team will make sure that you get enough RP to get into the top 750 players on the preferred platform. Usually, it means farming over 20-22k RP during the season. Do not worry if the minimum threshold will go higher during this season - we will progress higher to guarantee that you get Apex Predator ranking at the end of the season.
In case you have any questions before buying Apex Predator boosting service, please contact our customer support via online chat, skype, or discord. Our managers are working 24/7 and they will be glad to help you with any requests including custom orders.